The strange man is called John Manjirō who was a fisherman. He says he was saved by an American ship when the boat of him and other fishermen was in distress. He stayed in teh US for several years but he returned to see his mother because he loves his mother. But going abroad is prohibited and he is imprisoned. Then Nariakira planed to imprison Kichinosuke to talk with him. Manjirō also says that in the US, those who love each other can marry. In Japan, the marriage of young man or woman is arranged by his/her parents. Kichinosuke tells Shōsuke to marry Ito though she loves Kichinosuke secretly but she marries EBIHARA Shigekatsu.
Kichinosuke (Ryōhei Suzuki, left) sees a strange man called John Manjirō (Gekidan Hitori)

Kichinosuke is told by his fatehr Kichibei to marry Suga. He who often stays away from home doesn't know that his mother Masa is ill. Kichibei says the family needs a woman who manages the household. However Kichibei dies soon after and Masa who is carried on the back of her son dies while seeing Mt. Sakurajima.

Kichinosuke (right) carries his mother Masa (Keiko Matsuzaka) on his back and shows her Mt. Sakurajima

Kichinosue is ordered to go to Edo but he has no travelling expenses so he once gives up it. But Shōsuke blames him and at last he exchanges blows with Kichinosuke. After that Shōsuke scrapes together a sum of money and Suga who divorces him gives him a solatium. Therefore Kichinosuke goes to Edo and is ordered to serve Nariakira as niwakata, a kind of spy. Nariakira asks him what style of swordsmanship he mastered but Kichinosuke answers that he cannot raise his sword any more because of the wound in his childhood. Nariakira remembers a "yassenbo" who cried in front of him and is surprised at his growth.
SHIMAZU Nariakira (Ken Watanabe, right) notices that Kichinosuke is the boy who cried in front of him before

One day he goes to a red light district in Shinawgawa and meets a prostitute called O-Yoshi in Isodaya, one of the brothels in the district. She formerly called Fuki and introduces him to Hī-sama, HITOTSUBASHI Yoshinobu who disguises himself as a libertine. He draws a portrait of Kichinosuke that is liken to an ox. He tells O-Yoshi that he will remain poor all his life because he seems to be honest.
"Do I look like an ox, sir?" asks Kichinosuke

Commodore Perry's squadron visits Japan and Narikira tells ABE Masahiro, a rōjū (chief minister) that it needs to reform the politics. He, MATSUDAIRA Yoshinaga, TOKUGAWA Nariaki argues about making Yoshinobu, son of Nariaki become next shogun. But Nariakira becomes ill. It is thought that somebody mixed arsenic in his food. In Isodaya, Kichinosuke talks about it with Hī-sama and HASHIMOTO Sanai, who serves Yoshinaga as doctor in Isodaya. but a masked man enters the room suddenly so there is a state of panic in the brothel. Kichinossuke recklessly visits the residence of Satsuma domain in Edo and blames O-Yura. But her husband and former lord Narioki tells him there is nothing that proves it and many people dislike Nariakria.

O-Yura (Rumiko Koyanagi. left) denies Kichinosuke's suspicion

Nariakira recovers his health and tries to make efforts to improve people's lives and he scolds Kichinosuke who visited Narioki and O-Yura. Then he married off his adopted daughter Atsu hime but his real intention is making Yoshinobu next shogun and using Atsu hime for it. He tells her about it and she will not have any child between her and TOKUGAWA Iesada. But an earthquake occurs. Kichinosuke who prepares for her marriage goes to her bedroom and she asks him to bring her to somewhere. However one of her ladies-in-waiting comes to the room, she tells Kichinosuke firmly and coldly,

"I thank you to have protected me who are going to marry the shogun".
Atsu hime (Keiko Kitagawa) is going to marry the 13th shogun Tokugawa Iesada

After her departure for Edo Castle, Nariakira brings a Satsuma kiriko decanter and glasses and offers him shochu, a kind of spirit to reward Kichinocuke for his troubles. These kiriko goods and shochu are made and distilled in Shūseikan he established. He also ordered to make farm tools to lighten the burden of farmers.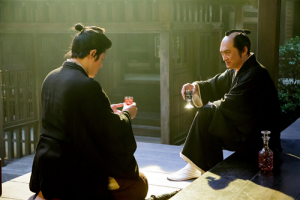 Nariakira (right) and Kichinosuke enjoy drinking shochu after the departure of Atsu hime

The images are from the official website of "Segodon".