Kichinosuke returns to Satsuma for the first time in three years and calls himself ŌSHIMA San-emon. Then he meets SHIMAZU Hisamitsu and is told by him that he plans to go to Kyoto with his army, and make MATSUDAIRA Shungaku (Yoshinaga) and HITOTSUBASHI Yoshinobu hold the important posts of the administration of the shogunate. But Kichinosuke tells him that it should have been done by Nariakira and criticises that Hisamitsu has not met Shungaku and Yoshinobu and knows no lords of other domains to cooperate with. Besides he says that he has not left Satsuma as yet. Hisamitsu gets angry and tells him that he makes fun of him by regarding him as Jigoro (bumpkin).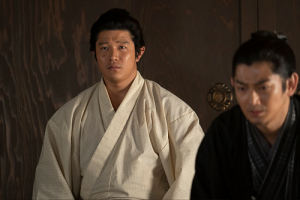 What Kichinosuke (Ryōhei Suzuki, left) says to Hisamitsu worries Ōkubo Ichizō (Eita)

He still tells Hisamitsu that it needs to know the world if he hopes to change it and they become opposed each other until after the Meiji Restoration. His behaviour worries ŌKUBO Ichizō who is with him and tries to gain Hisamitsu's favour. So both Kichinosuke and Ichizō look depressed though their friends of Seichū-gumi have a party to celebrate the return of Kichinosuke. Many of them agree with the Kichinosuke's criticism of Hisamitsu. But they are against the radical idea of overthrowing the shogunate of ARIMA Shinshichi so he blames them and leaves the party. Kichinosuke tries to persuade him but is stopped by ŌYAMA Kakunosuke.
Arima Shinshichi (Shyūichirō Masuda) blames his friends of Seichyū-gumi

At last Hisamitsu decides to go to Kyoto with his army. Kichinosuke and MURATA Shinpachi goes to Shimonoseki as advance party and prepare for the arrival of Hisamitsu and the army. They stays in the house of SHIRAISHI Shōichirō, a wealthy merchant who backs anti-shogunate samurais and they meet some of them includes KUSAKA Genzui (*). They learn from them that many samurais gather in Kyoto to overthrow the shogunate and Saigō Shingo, younger brother of Kichinosuke also goes there keeping 30 ryo for Shōichirō. Kichinosuke feels uneasy and goes to Kyoto disobeying the order of Hisamitsu. He risks his life for the disloyalty. He enters Kagiya and tells O-Tora, a hotel-maid that he changes his family name Saigō to Oshima so not to call him Saigō. However O-Tora says to the owner Naosuke loudly that Saigō-han (Mr. Saigō) has come.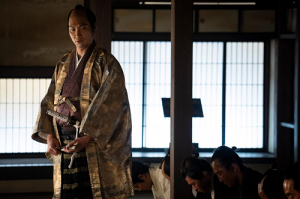 Shimazu Hisamitsu (Munetaka Aoki) decides to go to Kyoto

The owner tells that many samurais from Satsuma and Chōshū (current Yamaguchi) have meetings at Shige-no-ya, a restaurant where a geisha entertains guests. And Shingo takes riotous pleasures using Shōichirō's 30 ryo. Kichinosuke and Shinpachi goes there and see Shingo drinks sake being served by a geisha called O-Yū in the middle of the day. Kichinosuke flings him away and scolds him. Shingo is influenced by Shinshichi and decides to leave the domain. Besides he tells his brother that he had a hard time because of his absence and then he leaves. Kichinosuke bows his head to O-Yū and opens his purse to pay the drinking money. O-Yū is surprised with his behaviour because he is so polite to her and many samurais in Kyoto usually do not pay for their drink.
O-Tora (Haruna Kondō, far right) is delightes to see Kichinosuke again

O-Yū tells Kichinosuke and Shinpachi that Shinshichi and his comrades stay in Teradaya, an inn in Fushimi (**). Some of them leave the domain ignoring the entreaty of Ichizō. Kichinosuke sits in front of them includes Shingo and says it is remarkable that many samurais intend to overthrow the shogunate. But he persuades Shinshichi to endure doing so for a while. Shinshichi plans to kill the head of Kyoto Shoshidai, an organisation that governs Kyoto on behalf of shogun but he doesn't plan what to do after that. Kichinosuke emphasises that it makes the Western Powers impose on the confusion of Japan and it needs to strengthen the country at first. He adds kill him first if they are eager to do so now and Shinshichi accepts his words.

O-Yū (Yuki Uchida), geisha of Shige-no-ya tells Kichinosuke that Shinshichi stays in Teradaya

That night Kichinosuke sleeps in the same room as Shingo. He apologises him for what he did and Shingo says he felt lonely in his absence and he never had played and caught eels with him. His elder brother is a significant figure for him. Kichinosuke says his name becomes famous against his will in last three years and he is perplexed with it. On the other hand, he realised the reason to live by marrying and having a child in Amami Oshima.

Kichinosuke tries to persuade Shinshichi (centre) not to act so impetuously
Kichinosuke is satisfied with talking with Shingo but in Shimonoseki, Hisamitsu is angry with him who disobeyed his order and went to Kyoto with Shinpachi. And NAKAYAMA Naonosuke, one of his close advisers tells him that Kichinosuke said that Hisamitsu just follows the plan of Nariakira and he is a man of small calibre, unlike his brother. Hisamitsu becomes increasingly frustrated with Kichinosuke and as he told him before, he orders Ichizō to make his committ hara-kiri, not exile. Ichizō feels at a loss.
Kichinosuke thinks it needs to strengthen Japan first of all

(*) A royalist samurai of Chōshū domain who married a younger sister of YOSHIDA Shōin and died at the Hamaguri Gomon Incident in 1864.
(**) At the end of the Tokugawa shogunate, SAKAMOTO Ryoma, who left Tosa domain stayed at the inn when he visited Kyoto. It still runs business but the building was reconstructed.

The images are from the official website of "Segodon".
スポンサーサイト