HITOTSUBASHI Yoshinobu declares that he will be next shogun in front of II Naosuke. Then Kichinosuke and HASHIMOTO Sanai departs for Kyoto to ask KONOE Tadahiro and Gesshō to make a direct appeal to the Emperor to make Yoshinobu succeed Iesada. And in March 1858, the imperial decree of the Emperor Kōmei says that next shogun should be great, popular and elder. Though it doesn't specify that Yoshinobu will succeed but Kichinosuke, Sanai, Gesshō and Tadahiro believe it may be Yoshinobu because of the word "elder". In Satsuma, Shimazu Nariakira commands military training and Atsu hime has a friendly conversation with Iesada in Edo Castle. Iesada draws some fruits of a persimmon tree (*) but he is laid up with the worsening of beriberi, his chronic disease.
Atsu hime (Keiko Kitagawa, right) talks with her husband Tokugawa Iesada (Naoki Matayoshi)

Then II Naosuke visits his sickroom and asks him to write that he puts administration into his hands and approve of the succession of Yoshitomi. But Iesada draws a picture of persimmons instead. Naosuke devises a plan and agrees with him in a loud voice to make his words hear his attendants and doctors as if Iesada made an important decision. On the 23rd of April, he assumes offices as Tairō (**) and decides to conclude the Treaty of Amity and Commerce Between the United States and the Empire of Japan without imperial sanction. Atsu hime doubts that Naosuke compelled Iesada to let him allow his administration and orders him to bring the paper that proves it. But Naosuke refuses her request.
Ii Naosuke (Shirō Sano) asks Iesada to prove his administration but he draws persimmons

Honju-in is delighted with the succession of TOKUGAWA Yoshitomi and says he is much better than Yoshinobu who never visits Iesada on purpose to make Atsu hime feel unpleasant. And Kichinosuke in Kyoto is shocked at the news. One of Naosuke's followers approaches kanpaku (chief adviser of the emperor) and deletes the word "elder" in the imperial decree. Then Kichinosuke runs at the top of his speed to Satsuma to tell Nariakira about it and sees him at a hunting field. He has already known it and Kichinosuke falls on his knees in front of him as he did so in his childhood. Nariakira who saw some farmers on his way to the field and he thinks his ideal that makes them enrich collapses.
Honju-in*** (Pinko Izumi) is delighted that Tokugawa Yoshitomi (Towa Araki) succeeds her son

Ii Naosuke also orders to abandon Shuseikan, factory of Nariakira so he thinks everything is over and dismisses Kichinosuke. He feels depressed and returns home. His family welcome him but are surprised with his dismissal. That night Shōsuke speaks to him. Kichinosuke says that he is all up with him but Shōsuke says it's an excuse of "yassenbo" and tells him that he is the man who makes impossible possible. On the following day, Kichinosuke sees the children in his Gōchū who studies hard and devote themselves to sumō and swordsmanship. And he sees the letters of "cangoxina" on the paper Nariakira gave him years ago.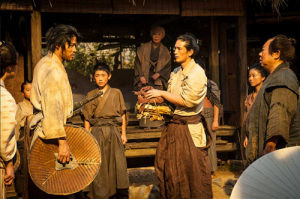 Kichinosuke (Ryōhei Suzuki, thirs from the left) is welcomed by his family but they are surprised by his dismissal

Kichinosuke decides to make an appeal to Nariakira directly though he and Nariakira cannot speak face to face any more. He dares to go to Tsurumaru Castle and barely advises him to carry out umazoroe, a kind of military parade in Kyoto and is given another imperial decree to press Naosuke for reforming shogunate. Nariakira feels that he is given a supportive push forward and orders Kichinosuke to go to Kyoto and tell the samurais of the domains that have the same ideas as Satsuma domain has. Nariakira tells Kichinosuke to behave on behalf of him from now. Then Kichinosuke tells his friends about it and goes to Kyoto.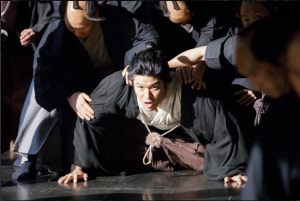 Kichinosuke tries to make an appeal to Nariakira

Kichinosuke stays at an inn called Kagiya where samurais of Satuma usually stay and meets a chambermaid O-Tora who is plump and easygoing. She seems to like Kichinosuke. He prepares for umazoroe with Gesshō and Sanai and then ARIMURA Shunsai visits them. He leaves the residence of Satsuma domain in Edo by telling a lie to officials to help them. In Satsuma, Nariakita commands military training using cannons and guns but he falls down suddenly during it and dies 8 days later.
Nariakira (Ken Watanabe) plans umazoroe in Kyoto but in vain

(*) In reality, the season is spring and persimmon tree bears no fruits.
(**) A chief minister of Tokugawa shogunate that is no a permanent post.
(***) The hairstyle of Honju-in is that of a high-ranking woman who lost her husband.

The images are from the official website of "Segodon".


スポンサーサイト