Because of the earthquake, the wedding of Atsu hime is postponed till next year. Kichinosuke renews her trousseau and at last she enters Edo Castle at the end of 1856. When her palanquin enters Ō-oku, a man puts its sliding door open. She is surprised and greets him but he asks her "Are you healthy?" and "Do you never die?" only and then leaves there. He is TOKUGAWA Iesada who becomes her husband.
The vassals give Atsu hime (Keiko Kitagawa, left) a good send-off

After she left, Shimazu Nariakira drinks shochu (a kind of distilled liquor) in a kiriko (*) glass with Kichinosuke in the residence of Satsuma domain. The glass is made in Shyūseikan, a factory he established as well as cannons or farm tools. He plans to rule his domain by enriching life of people. And he says "Oyatto-sа", that means "Good job" in Satsuma dialect that he hardly ever uses (**). After that he accompanies Nariakira and returns to Satsuma with ŌYAMA Kakunosuke. Then they go to Isodaya to say farewell to the prostitutes O-Yoshi (Fuki) and O-Michi but before that, Kichinosuke visits Meguro Fudoson (Ryūsenji Temple) and prays that Nariakira will have a heir.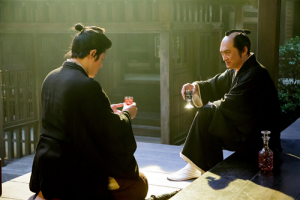 Nariakira (Ken watanabe, right) rewards Kichinosuke (Ryōhei Suzuki) for his services

On their way to Satsuma, Nariakira visits KONOÉ Tadahiro, an aristcrat in Kyoto who cooperated with him to make Atsu hime marry Iesada. After Narikira thanks to him, a gust of winds rises and Gesshō appears. He is a high ranking priest who interacts with Emperor Kōmei then he asks to make effort to make HITOTSUBASHI Yoshinobu become next shogun. Then Kichinosuke returns home after 3 years and 4 months is welcomed by his family but they are still poor and make a bare living though they do side-job and ICHIKI Masanojō, husband of Koto borrows 40 ryo for them. Kichinosuke sighs that his expenses in Edo prevents from sending money to them.
Koto (Nanami Sakuraba) who married Ichiki Masanojō welcomes her brother

That night Kichinosuke and his friends have a small party. Both ARIMA Shinshichi and MURATA Shinpachi ask him what kind of man Nariakira is because they learn that he serves him directly. Kichinosuke tells them that he cannot tell them such a thing. And then Shosuke confesses that he will marry soon so Kichinosuke, Shinshichi and Shinpachi celebrate him. She is called Masu and a daughter of his superior. They decide to visit her who is playing go and chat whether Shōsuke is forced to marry her or not. Then Masu herself approaches them and says if Shōsuke doesn't love her, she won't marry him. But Kichinosuke stands for him and Masu agrees with marrying Shosuke.
Kichinosuke (centre) stands for Ōkubo Shōsuke (Eita, left) and Masu (Rié Mimura, right) accepts it

In 1857, a boy is born for Nariakira and he is called Tetsumaru. Also in Satsuma, Nariakira studies the products of Western civilisation as steam engine, electric system and camera. His younger brother Hisamitsu tells him that he supports Tetsumaru and protects the Shimazu clan but Nariakira prioritises the security of Japan and he intends to purchase a warship. Hisamitsu is afraid that Nariakira plans to fight against Western powers. Then Nariakira orders Kichinosuke to tell him about his idea.
"What is important is not winning against them but dealing with them on an equal basis, sir."
However he is dissatisfied that a low class samurai like Kichinosuke answers him in that way. Nariakira tells Hisamitsu that he must change his way of thinking.
Nariakira (second from the right), YAMADA Tamehisa (Yū Tokui, second from the left) and Kichinosuke (far left) see an up-tp-date camera

Kichinosuke who attends the wedding ceremony of Shōsuke but is ordered to go to the castle ans is told that ABE Masahiro died by Nariakira. Nariakira is disappointed with it but Kichinosuke says that Atsu hime will use her influence for it. Then Nariakira orders him to go to Edo again and he asks him to bring another man. After that, he visits the Ōkubo family after the wedding party closed. He tells Shōsuke that he goes to Edo again. And Nariakira permits Shōsuke to go to Kumamoto and meet NAGAOKA Kenmotsu but he is unpleasant because he feels that Kichinosuke looks down on him.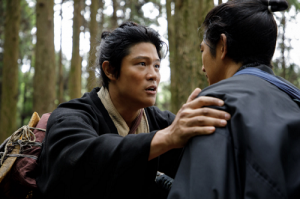 Shōsuke (right) finally catches up with Kichinosuke

Kichinosuke still tells him to change himself and go out of Satsuma on this occasion but Shōsuke disputes with him and they part in anger. Later Kichinosuke departs for Edo while Masu makes preparations for a journey for her husband and tells him to catch up with Kichinosuke. She heard their words that night and his parents Jiemon and Fuku agree with her. Shōsuke runs towards Kumamoto and then sees a man comes from the opposite side of the highway. It is Kichinosuke. He says that he forgets taking Shosuke. Then they get back together and run off to Kumamoto.
(*) A kind of cut glass.
(**) Probably Nariakira intends to express his thanks in such a way.
The images are from the official website of "Segodon".
スポンサーサイト